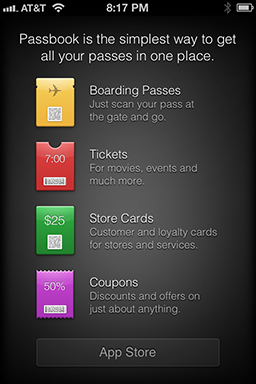 Trying to understand how to use Passbook can be difficult for new users. In this tutorial I'll show you how to setup the free Walgreens and Fandango applications to use Passbook. The first thing to understand is that Passbook is just a place to keep store bar codes handy for checkout purposes. In the case of Walgreens, you can use Passbook to earn points and redeem rewards. You just let the cashier swipe the Balance Rewards QR code in Passbook. To get started you need to launch Passbook. You will see a screen like below. Just tap on the App Store black button at the bottom of the screen.
This will launch the App Store and will show the current list of apps that support Passbook. Since the service has just launch there are only a few to choose from.
Scroll down and tap on the Free button to download the Walgreens app.
Once the app has downloaded, tap on the Open button to launch the Walgreens app.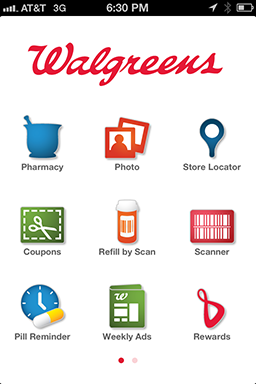 Tap on the Rewards icon. This is where you can create a new Rewards card. Once the card is created you will see an Add To Passbook section show up. Tap on that and a popup screen will appear asking you if you would like to add the card with or without a local store. I went ahead and added my local store but it is not required.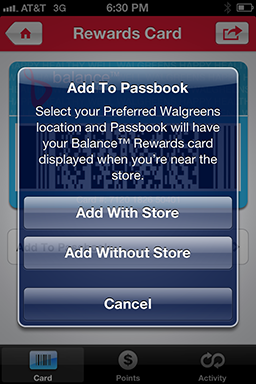 Once you click Add… you can go back to Passbook and you will see that the Walgreens card was added!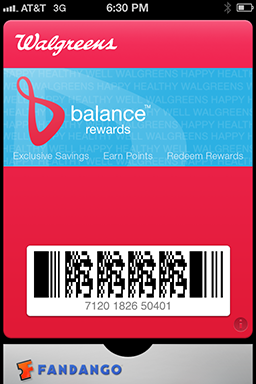 It is perfectly fine to delete any item in Passbook. You can always add it back in again later. Try deleting your Walgreens card now. Apple has a nifty animation to shred your card for you. To delete the card, tap on the tiny "i" icon at the bottom right-hand corner of the screen. This will load the confirmation screen.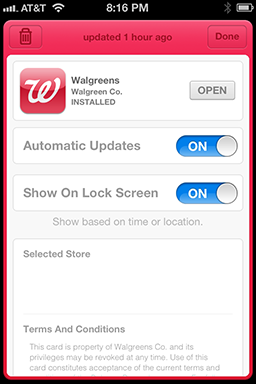 Just tap on the trash can icon in the upper left-hand corner to watch your card get shredded!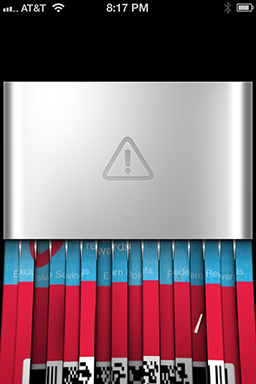 To add the card back in again, go back to the Walgreens app and tap on the Rewards icon. Your card is there with the Add To Passbook section ready to be tapped!
Now lets get Fandango integrated into Passbook. One important thing to note before we begin is that your theater must have the barcode scanners in place for mobile devices in order to use Passbook. Theaters with the orange "Tickets" logo and "Mobile Ticket" will work with Passbook. In the case of Fandango, you will need to have already purchased a ticket for a movie using an existing account. You can add tickets from dates in the past or add tickets for an upcoming movie to Passbook. If you don't have an account, you can create one from their website at Fandango.com or through the iPhone app by tapping on the Account tab in the bottom navigation bar.
Once you've logged into your account, you can get access to all of your previous or upcoming tickets by tapping on the Purchases section inside the Account screen.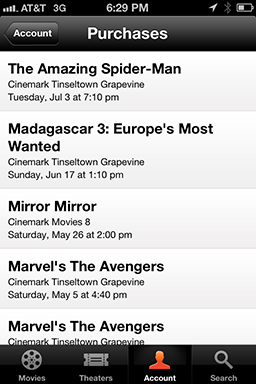 Tapping on a particular ticket brings up its detail screen which displays a bar code that can be used at the movie gate for entry.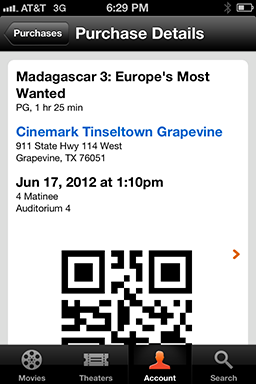 If you scroll down by swiping up with your finger, you will see where you can add the item to Passbook via the "Add to Passbook" grey button.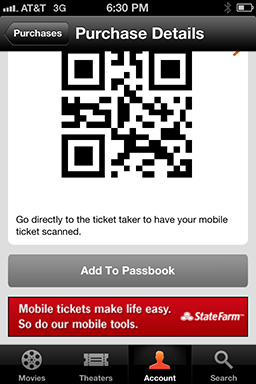 Tapping on the button will open up a confirmation screen where you tap on Add to finally send it to Passbook. If you open up your Passbook app you should see your ticket.
That is all there is to using Passbook. Just think of it as your digital wallet to hold all of your different bar codes. Enjoy!
Trying to understand how to use Passbook can be difficult for new users. In this tutorial I'll show you how to setup the free Walgreens and Fandango applications to use Passbook. The first thing to understand is that Passbook is just a place to keep store bar codes handy for Read More